SMF Project
Project "Smart Micro Factory"
This project started on the basis of 2 key questions:

– How to give access to automation and robotics to SME producing in low volumes, with limited means of investment, requiring a quick payback?

– How to provide them with flexible and reconfigurable solutions, adapted to their specific needs?

To answer this question:

– The creation of an SMF skills pool. Industrialists, SME, academia and government, together to succeed.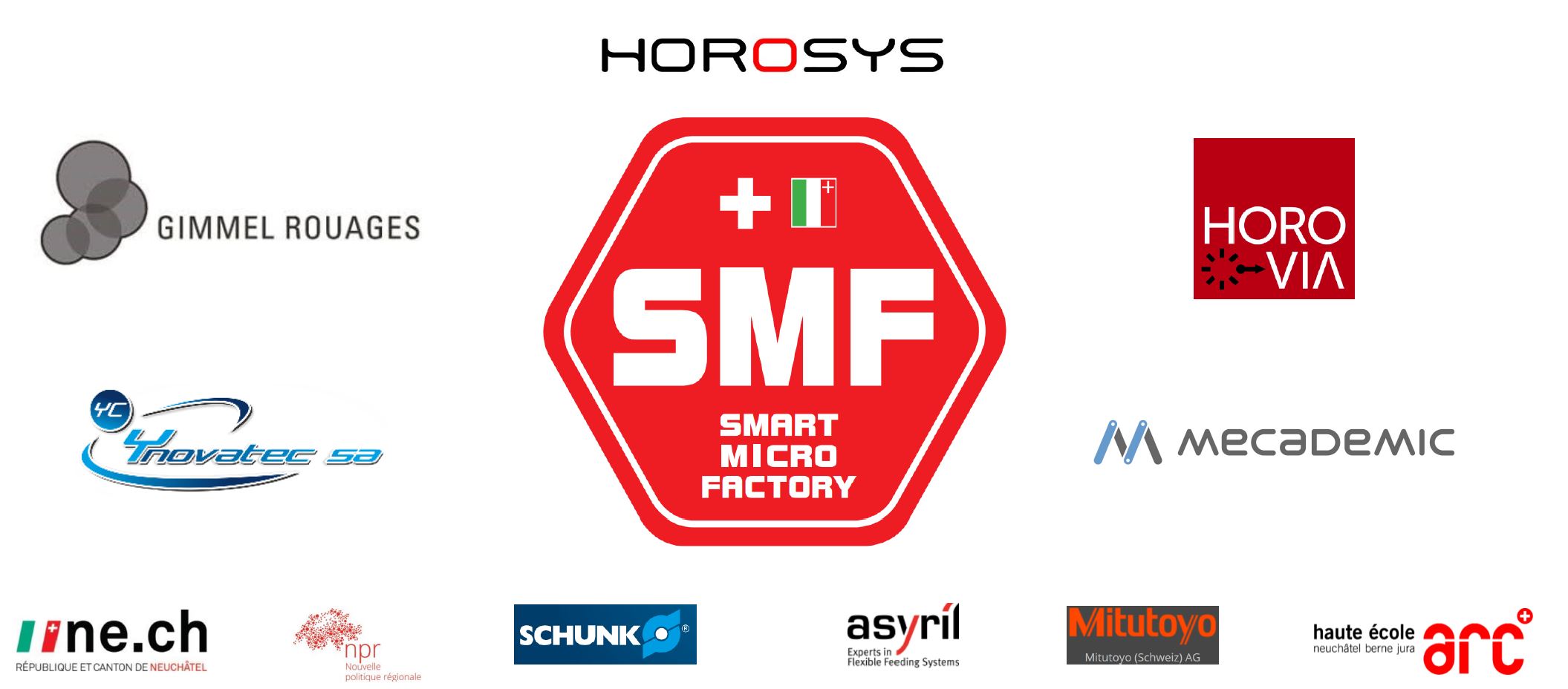 The objective
Create the modules and tools necessary to build flexible micro-plants.

The project consists in realizing 2 scalable pilot lines " Smart Micro Factory ", corresponding to the needs of industrial partners, with assembly processes typical of the local microtechnical industry.

In order to link one process to another, the first module to be studied and realized is a handling station, which must allow either to load/unload components or to realize complex manipulations..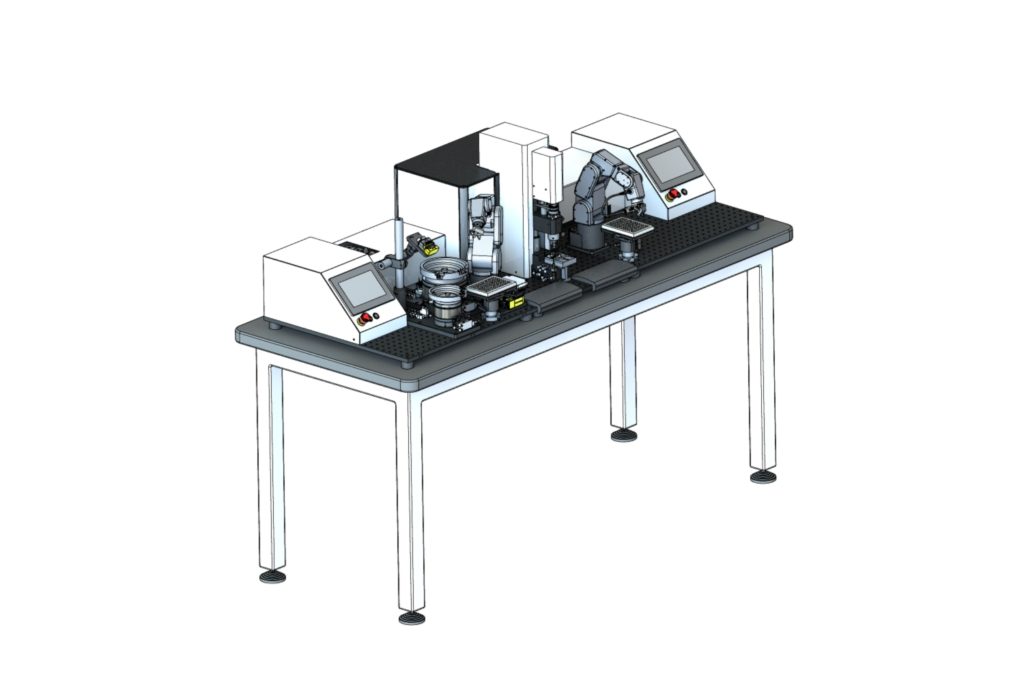 Robotics in microtechnology
The implementation of robotics is difficult: too big, too complex and too expensive for the microtechnology market. However, there is a real need to automate tasks.

In 2015, 264'000 robots were installed worldwide. 400'000 are planned for 2018. In Switzerland, around 1'000 robotic units will be sold in 2015…33'000 in Japan.

HoroSys wants to become the first preferred partner for SME looking for accessible solutions for "Desktop Factory & Smart Industry 4.0" technologies, as well as the first robot integrator with the right characteristics (precision, affordability, small size, etc.) for the Swiss microtechnology market.
Microtechnical assembly pilot line

This first SMF line allows assembly operations by chasing and riveting, either manually or with the help of a robot in a fully automatic way. The test components are characteristic of watchmaking assemblies. An automatic metrology control is also integrated on the components produced.

The key constraints were :

– Handling accuracy 0.005mm, no markings allowed, assembly accuracy <0.01mm.

– Ease of use, very quick and frequent series changes.

– Modular design, allowing manual or semi-automatic use for small series.

-Interconnection between modules via Ethernet, decentralised control and recipe management.)
Pilot line for complex sticker handling :

This second SMF line allows the application of stickers on watch dials. The robotic station allows a complex handling operation of the sticker (peeling of the protective film) and allows the application on dials directly on the "customer" press.

The key constraints:

– Complex handling and movements (sticker peeling) and delicate to automate with flexible stickers.

– Very frequent series changes, many different designs.

– Adaptable to a rotary table press, allowing work in masked time.

– Accuracy of sticker application on a dial <0.05mm.

This line has the advantage of using the two strong points of the proposed robotic stations: complex movement on 6 synchronized axes + precision. As part of the preparation of the SMF project, a first demonstrator has been realized in order to validate the peeling process and the vision-assisted removal, for one type of sticker.
Project outcome – SMF Station
The creation of the "SMF Station / Tabletop Robotics" marks the culmination of this project. We have brought together all the key points from the SMF project and integrated them into small, modular and compact stations.